Saturday, July 17, 2004
New Auction Type for eBay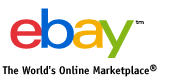 OK, so here's my new idea for eBay®:
My wife has been selling some items lately, and she says she's having trouble with "snipers" - those bidders that wait until the last few seconds to bid. This means that there never is a bidding war and the price never really goes up.
Instead, what if they had a more traditional auction? I'm calling it the "Going...Going...Gone!" auction. It goes something like this...
After a period of time (a few days), eBay® starts to measure the time between bids. After each bid, the time gets a little shorter - from 24 hours down to a minimum time of around five minutes. Once the time period passes with no bids, the auction closes.
This could simulate the auctioneer calling for more bids and finally banging the gavel. A popular item's auction could go on for a long time (and a higher price).
I'm sure that I'm not the first one to come up with this idea. I wonder if eBay® will ever do something like this.
Wednesday, July 14, 2004
Disturbing
I've had the same dream the past two nights. The husband of a woman I work with (who was in the Army reserves and recently returned from Iraq) was re-enlisting. In order for him to better operate some specialized machinery, he was going to have both arms amputated above the elbow!



I kept trying to tell him, think past the war! How will you eat? Etc. But, he wouldn't listen.



Strange...





Monday, July 05, 2004
Blogging 110%
Don't you hate it when someone says they will be "giving it
110%
"? What does that mean? It's tough to even quantify the effort that one puts forth (other than half-assed), but how can we give more than the maximum?
I think that in reality, they weren't trying as hard as they could before - maybe 85 or 90%, and they are now going to really do a better job. However, with their obvious lack of math skills, it could be that this new "110%" is actually more like 70%. They have no idea! It's like
Nigel Tufnel
of
Spinal Tap
turning all the knobs on his amp to eleven.
Blogger Troubles
Is it just me, or is
Blogger
having some performance troubles? I've been having trouble viewing blogspot pages the last few days. Instead of seeing the page, I just get an empty file. After three or four tries, the pages come up.
Saturday, July 03, 2004
Random Thoughts


The commercials for Dekker's Furniture have quite possibly passed the Lafayette Bank and Trust ads for the Most Annoying prize. We hear some old woman reading her awful poetry while her grandchildren prance around the merchandise. "Where is it written, that with pop music all are equally smitten?" (Probably not an exact quote - but it shows the high drivel score)

The word "virtually" is constantly misused where "nearly" would be more appropriate, and it's bugging me.
Nearly means that one has almost reached the goal, while virtually implies that while it may look as if the goal was reached, we are actually no where near it. Sure, it sounds neat and kind of high-tech, but it's wrong.

It is difficult to question the U.S. actions in Iraq when in the company of soldiers or their families. Can we say that our President's decisions were poor without cheapening the dedication and selflessness of the armed forces? I like to use a fire fighter analogy. We consider firemen to be brave and noble regardless of the source of the fire. It could be an honest accident that caused a house fire, or the act of an arsonist. Either way, the firemen sacrifice their safety for the good of the town. In the same way, the Marines and others that face unimaginable danger each day are demonstrating their patriotism, expertise, and loyalty to the country. It is not their place to question why they are there, it is mine, yours, and every other citizens' responsibility to hold our leaders accountable so that we don't place them in peril without cause.